Deep Cleaning Services in NYC
Deep Clean NYC offers high-end luxury cleaning services near you
Move-in / Move-out Cleaning Services in NYC
Deep Clean NYC offers staging, move-in and move-out cleaning services
New and Post-Construction Cleanup Services in NYC
Because presentation is everything
Deep Clean NYC, founded in 2011, is a private, woman-owned company started with our clients' satisfaction in mind. We have over 10 years of experience working with top builders, contractors, elite interior design firms, and  VIP clientele. We have serviced over 10,000 post renovation/new construction cleanings. We guarantee great service that will leave you and or your clients ready to expedite the move-in process.
Why Choose Deep Clean NYC
We've been perfecting our cleaning processes for over a decade. Each team member goes through an extensive training process so that they able to take care of your cleaning needs, while utilizing the proper tools and products for each individual space.
We are always updating our equipment and materials to ensure that we are providing the healthiest and best possible service for our clients.  
Alorair Scrubber – with HEPA filters that can trap 99.5% of particles of larger than 0.3 microns.
ProTeam Backpack Vacuum – 4-stage HEPA filtration removes 99.97% of particles.
Prior to scheduling your cleaning project, we will schedule a time that is suitable for you to come in to provide a complementary onsite estimate with one of our managers to ensure that we can come up with a respectable price and time frame to suit you and or your clients' needs. This also provides us the opportunity to see the different types of finishes and furnishing throughout the home to ensure that we are equipped with the necessary products and proper equipment and tools to handle the cleaning process that is unique to each space.
"Deep Clean is the absolute best when it comes to post construction or deeper cleaning. We are a design firm, and they are our number one choice for our customers."
Jennifer Chused
Chused and Co.
I've used deep clean for the most upscale clientele. They've consistently provided positive results and have recurve positive feedback from the clients who were serviced. I'd recommend Deep Clean to anyone in need of their service.
Robert F.
Resident Manager The Plaza Residence
As a real estate agent and homeowner in bustling New York City, I've encountered countless apartments in need of sprucing up, but it wasn't until I discovered Deep Clean NYC that I truly understood the transformative power of a thorough deep clean.They didn't just meet our expectations; they exceeded them by a mile.T he result? A quick and successful sale, thanks to the incredible transformation. Whether you're a real estate professional looking to make a strong impression or a homeowner seeking to maintain the value of your property, Deep Clean NYC is the cleaning service that will exceed your expectations every time.
Terence Rhea
Licensed Real Estate Broker
The Deep Clean NYC was the best quality cleaning service we've ever used. Consistently excellent. Communication is always very easy, and we are extremely happy with the results. We will definitely use Deep Clean NYC services again!
Jakub
Best Interiors
We have been working with Deep Clean NYC since 2014 on numerous of our high-end post renovation cleanings. We have been so happy with the quality of the service that have referred them to several of the luxury design firms that we work with.
Professional Interior Contracting Inc.
Deep Clean is the best and only post construction cleaning service that I will work with. I have worked with other cleaners in the past that have not been worth what they charge, and I have had to ask those companies to come back to finish. Deep Clean gets the job 100% done every time.
Christian Zavala
Zavala Interiors
"Deep Clean is on my A-Team list. The work is always amazingly thorough. They go above and beyond, truly a deep clean crew,"
Studio KG

All my best,
Kristine
Kristine Greenblatt
Latest Cleaning Articles and News
Read latest articles about our cleaning services, top tips and tricks, and success stories.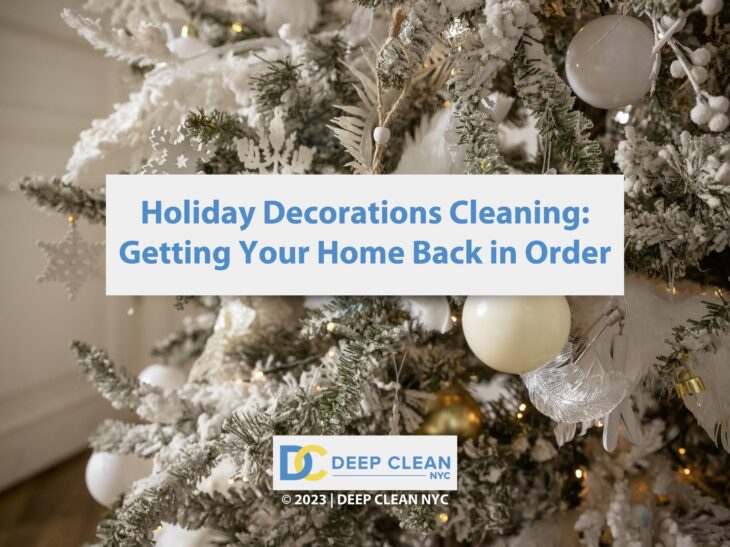 Few people in Manhattan, NYC, remember to add holiday cleaning to their wish list, but it's something every house and
Read More
We look forward to speaking with you!