Everyone's heard of spring cleaning. When the weather finally begins to warm up after a long winter, it just feels right to get your living space clean and fresh. Spring is a time of renewal, making us want to renew our homes, too. But have you ever heard of holiday cleaning? For busy NYC residents, holiday cleaning might be more important than spring cleaning.
Holiday cleaning usually takes place in early or mid-autumn. That way, when your family and friends begin to gather for traditional celebrations in fall and winter, your space is in top condition. If you're planning a vacation to escape the dreary winter weather, vacation cleaning can help ensure your NYC home feels inviting when you return. At Deep Clean NYC, we firmly believe that seasonal home cleaning services are essential for every household. What makes holiday cleaning services so important that all NYC dwellers should use them? Keep reading to learn more about holiday cleaning with Deep Clean NYC and how it can benefit your home.
What's It Like to Work With a Seasonal Cleaning Service in NYC?
If you've never used an NYC holiday cleaning service, prepare to be amazed! At Deep Clean NYC, we encourage our clients to maintain high expectations for our service level. Our commitment is to meet and exceed them every time.
Keep in mind that deep cleaning goes far beyond the surface level. It's more than just tidying rooms, emptying trash, and sweeping up visible debris from the floors. Deep Clean NYC can handle everything on your seasonal cleaning list and any tasks you never thought to write down!
Our industry professionals provide cleaning at an upscale, luxury level. We start with a thorough information-gathering process to ensure we fully understand your space, belongings, and needs. This stage of the process is entirely free for you, and it helps us develop a personalized cleaning plan. Next, we'll perform a walkthrough and present you with a detailed proposal. We'll discuss various specialized cleaning service options with you if needed, including:
New construction cleanup
Post-renovation cleanup
Staging cleaning service
Move in/move out cleaning service
Newborn cleaning service
After we fully understand your space, project, needs and timeline, we can get to work for you!
Why Every NYC Household Needs Holiday Cleaning
What makes holiday cleaning so important? Let's look at a few of the top reasons to work with a seasonal cleaning service like Deep Clean NYC for your home in Brooklyn, Manhattan, or Queens.
Get your home guest-ready
The holidays are known for gatherings, large and small. From Thanksgiving dinner to end-of-year holidays and New Year celebrations, your home will see lots of traffic between November and January. Whether you need Thanksgiving cleaning before your in-laws visit or New Year's cleaning to prepare for a big party with friends, working with Deep Clean NYC is an absolute must.
First of all, an NYC holiday cleaning service will help you put your best foot forward. Are you inviting the boss and their family over for dinner? Hosting relatives you haven't seen in a while? Deep cleaning will ensure your home is spotless and makes the best possible impression.
Second, gatherings with family and friends often involve children visiting your home. Depending on their age, children are known for putting things in their mouths, touching everything around them, and sometimes making messes. Hosting kids will be much less stressful, starting with a clean space. Our cleaning products are safe and free of toxins, so you won't need to worry if your guests' kids decide to touch (or taste) the surfaces in your home.
Finally, when planning a large gathering, you're likely to host people with various existing health conditions in your home. For guests with a compromised immune system or other health concerns, keeping your space safe and germ-free is important. Our high-end, eco-friendly cleaning solutions pose the lowest possible risk to existing health conditions. Don't stress out any longer about whether your home is clean enough for your elderly grandmother or newborn nephew to enter. Our seasonal cleaning service can ensure your Brooklyn, Manhattan, or Queens home is spotless and safe for everyone.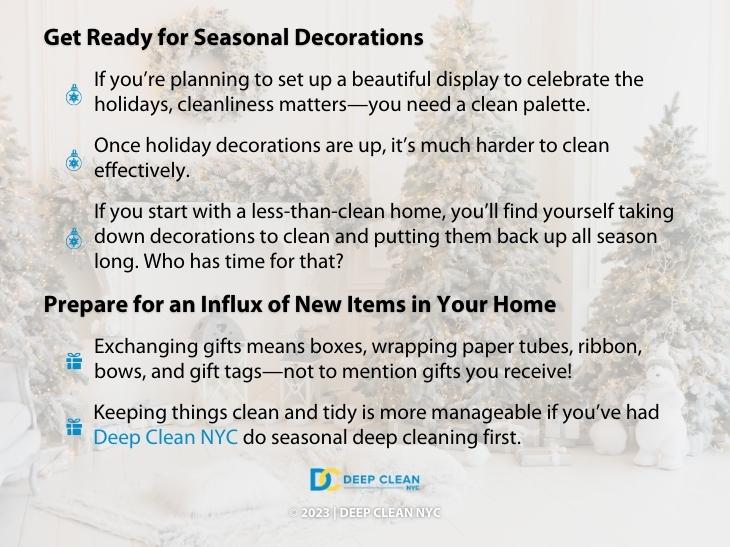 Get ready for seasonal decorations
Another reason why NYC holiday cleaning is so important comes down to your home decor. If you're planning to set up a beautiful display to celebrate the holidays, cleanliness matters. Whether you're putting up decorations yourself or hiring a home decorator, you'll first need a clean palette. Otherwise, your home will end up looking cluttered.
Once your holiday decorations are up, it becomes much harder to clean effectively in your home. As long as your home has had a deep cleaning before decorating, you can keep it presentable with spot cleaning and touch-ups until the holidays are over. But if you started with a less-than-clean home, you'll find yourself taking down decorations to clean and putting them back up all season long. The holidays are busy and stressful enough – who has time for that?
Prepare for an influx of new items in your home
Many traditional holidays involve gift-giving. Exchanging gifts with friends and family can be a heartwarming and meaningful tradition. But it also involves lots of packing boxes, wrapping paper tubes, ribbons, bows, and gift tags. You'll need to store the gifts you're giving your loved ones, as well as the gifts you receive throughout the season. As packages and wrapping materials pile up in your home, keeping things clean will be much more manageable if you've had seasonal deep cleaning done first.
Whether or not you're exchanging gifts, the holidays are also a time for large, celebratory meals. As friends and family members bring in appetizers, hot dishes, and beverages, things can get a little chaotic in your dining space. But if your home has recently been deep cleaned, it will be much easier to keep the chaos contained and enjoy the special moments in your holiday season. An NYC seasonal cleaning service is a great way to keep your stress levels at a minimum during the holiday season.
Make your holiday season memorable
The holidays go by so fast – before you know it, it's the middle of January again, and the world is back to business as usual. Don't spend your holiday moments worrying about dust on your countertops, spatters on your walls, or germs on your household surfaces. After Deep Clean NYC has finished with your home, you'll be left with a spotless space. No more worrying about what guests will notice or how difficult it will be to clean up after holiday gatherings. Instead, you can spend your time focusing on what matters most – quality time with the important people in your life. And when the holidays are over, a new year cleaning for your NYC home is the perfect way to reset.
Why Deep Clean NYC? | Holiday Cleaning Service in NYC
Deep Clean NYC is New York City's favorite luxury cleaning service because we offer results at a higher level than you'll find anywhere else. We maintain an ongoing, highly detailed cleaning checklist, tailored to your unique needs. We also offer free on-site estimates for holiday cleaning in NYC so you can get the process started risk-free. Call us today at (347) 799-1944 or fill out our Quick Estimate Form to tell us about your project needs!